St Gabriel's is delighted to offer wrap around care for its children! We offer before and after school care for the children whose parents have to go to work. The clubs are well run and very popular with the children. All children are encouraged to join in with the many activities and enjoy a variety of healthy breakfasts and snacks.
All sessions for Breakfast Club and After School Club must be booked and paid in advance through Parent Pay.
Breakfast Club
Breakfast is served in the School Hall from 7.30 a.m. until 8.20 a.m. The breakfast club is open to children from Nursery to Year Six.
The club is run by members of the school staff and provides a nutritious breakfast and quality child care. The children who attend the Breakfast Club have the opportunity to socialise with each other, play games and read.
Breakfast Menu:
Apple juice, orange juice, milk or water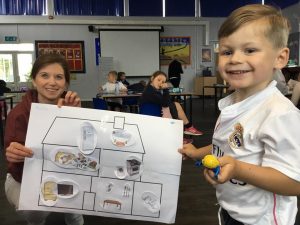 A choice of cereals
Fruit
Yoghurt
Toast, bagel
The cost is £3.00
After School Care
The After School Care facility is available from 3.00 p.m. until 5.45p.m situated in the school hall. It is open for children from Nursery up to Year 6.
The facility is run by 2 members of staff.
The cost is £7.00
All children will receive a snack at 4.15pm.
The children who attend the Wrap Around Care have the opportunity to complete homework, socialise with each other, play games and read.
The children's choices are taken into consideration and are changed regularly.
All Children must be collected by 5.45pm – further charges will incur if your child is not collected by this time.